Description
WoodPro Fasteners 71/10 3/8-Inch Length X 3/8-Inch Crown X 22 Gauge Galvanized Fine Wire Staples (10,000 Per Box)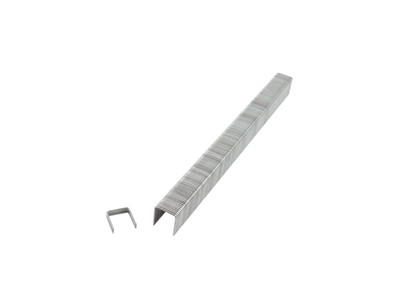 Description
Amazon.ca B&C; Eagle collated fasteners are made to thehighest quality standards and are guaranteed to work in tools for which theyare intended. Our fasteners work with many brands of pneumatic tools likeBostitch, DeWALT, Senco, Paslode, Duo-Fast, Hitachi, Makita, Porter Cable andmore. If your tool model number is listed below and our fastener fits withinthe size range of your tool, our fastener will work, guaranteed. We use onlyhigh quality collation materials and glues to keep the fasteners togetherbefore and during use. Use B&C; Eagle fasteners for more positive drives,fewer jams and lasting quality. Please make sure you select the right coatingfor your application. Bright fasteners should only be used for interiorapplications in non-treated lumber. Hot Dip Galvanized fasteners are forinterior or exterior applications in treated lumber. For the best corrosionprotection available, always use Stainless Steel fasteners. Visit our websiteat or give us a call for more technical information or ifyou have any questions on our fasteners. As of July 1st 2013 we've updatedall of our packaging. Buy with confidence that you will receive our productshipped from AMAZON.COM intact. These fasteners are ENGINEERED TO FIT:B&C; Eagle: US7116LMA, BEA: 71/16-421, Bostitch: 21671B-A, 21671B-ALM,Campbell Hausfeld: SN162H00AV, Fasco: F1B7C-16, F1B7C-16ALM, Max: TA116/21-13,TA116/22-9, Porter Cable: US58-1, Senco: JG5/8, SFT10-C, SFT10XP-C, SFW08-C,SFW09XP, SFW10XP-C, Spotnail: BS7116AF, IS7116, JS7116. PLEASE CONSULT YOURTOOL OWNER'S MANUAL FOR SIZE RANGES. For the most up to date list of toolsthis fastener is compatible with, please visit our website at From the Manufacturer The B & C Eagle 71/10 3/8-Inch by 22Gauge Galvanized Staple is a 22 gauge, 3.8-inch galvanized staple that's foruse with the Porter Cable model US58K, Upholstery/Craft Stapler Kit. Thestaples are packaged in boxes of 10,000.
Features:
For use in 71 series staplers like the Porter Cable US58
Great for roofing felt, house wrap, upholstery, furniture trim, automotive vinyl and trim, picture frames, bedding, furniture frames, molding
Electrogalvanized finish helps resist corrosion and rust, recommended for interior use only
Chisel Point
Reclosable box helps protect product during storage
Product Details:
Part Number: 71/10
Item Weight: 748 g
Product Dimensions: 15.2 x 7.6 x 5.1 cm
Item model number: 71/10
Material: Metal
Item Package Quantity: 1
Cutting Diameter: 0.375 inches
Measurement System: inch
Batteries Included?: No
Batteries Required?: No
Weight: 748 grams
Length: 15.2 centimeter
Width: 7.6 centimeter
Height: 5.1 centimeter
Shipping Weight: 748 g
Date First Available: Sept. 3 2013
Handling

We will ship all orders within 1 to 3 business day of payment.

Delivery

– We Do Not Ship to APO Boxes, or Internationally (Except USA)

-We do ship to PO Boxes. However some items may have delivery restrictions to PO boxes. if the item can not be delivered we will notify you by Ebay
– They are no Local Pickup, and no Combined Shipping
– We ship to most of Canada, However delivery restrictions may apply to YT, NT, NU, NL, A0K, A0P, A0Q, A0R, and X0A-Y9Z. Please contact us before ordering
– Some Remote or Rural addresses may experience a longer shipping time. And in some cases we may not be able to ship to your postal code due to restrictions from the delivery carrier. Please inquire about shipping availability and times if you live in remote or rural location.
– For large items that require Freight shipping a valid phone number is required to call and schedule your delivery
– FOR USA orders – There are shipping restrictions for Heavy Items & shipping to PR/HI/AK/APO & US Protectorate. We will notify you of we can not Deliver to your area. /li>

Feedback

We take our reputation seriously, we buy and sell online, so we understand the value of trust. If you are unsatisfied with your order, please contact us and we will work with you to resolve it to your satisfaction.